I aspire to be fearless.
I LOVE this pic. It gives me life and jitters. We will talk bravery, the lion and all that growl inducing mantra stuff in part 2 of the "Fearless" trilogy
For now; Part 1
5 years. That is how long God has been telling me to be fearless, or at least some derivative of it. If I told you the exact phrasing you would probably figure out some of my secrets and passwords over the past few years and so nah fam. Okay, I digress.
I have heard and seen so many teachings on fear or fearlessness and have attempted to summarise them into 3 key themes ;
Fear in relation to faith, stepping out in courage or bravery etc. Joshua is our reference, God's presence and your focus is key
Fear in relation to how we revere God aka "good/healthy fear".  Solomon's Proverbs are our reference, God's nature and your submission is key
Fear in relation with love. Jesus and his relentless grace is our reference, God's faithfulness and the root of your faith is critical
God has and continues to teach me, rather successfully (my am I modest today), number 1 and 2. But Number 3…now that is a recent revelation and man it got me shook
One day I was happily scroll reading my bible app, don't judge me, and was struck by
1 John 4:18
There is no fear in love. Fullstop. Power! Fist pump, pretend boxing vibes. So good! (Guys at some stage someone needs to tell me who started this 'so good' feedback trend in church…I just want to talk). So anyways, I started scrolling past to catch my word for the day and then my spirit was like "wait my ninja, you done? Read that again."
Ladies and gentlemen, the verse actually reads:
There is no fear in love. But perfect love drives out fear, because fear has to do with punishment. The one who fears is not made perfect in love (emphasis mine)
KJV in true dramatic fashion states  "because fear hath toment"
I was like PLEASE you best believe I know God loves my ratchet, I mean wretched, self. Look at how far He has taken me, the onus here is for me to now show Him that I love Him.
So when life threw me in situations where I needed to be brave (do not read impulsive), I dove in! From applying for THAT job to moving to Germany to bunjee jumping. When it comes to diving, I am pro. Possibly cos I legit believe I am a bit crazy ;P
When life asked me to declare things in faith…oooooohhh child (using Pastor Sarah Jakes Roberts' demon bully gangster voice), you see now a lot of the big things that have happened in my life I can trace to moments of inspiration where I spoke it. God taught me that I am a king, in my mouth is the power of life and death and that my words create. He taught me I have authority. Often I think I over-learnt this! Raaaaarrrggghhh.
Life then changed the atmosphere, the level and took away what I knew and asked me if I was still fearless?
I put on the brave face and life slapped me breathless in response
I fumed and shouted an authoritative word and life stared me down to a whimper of old verses I think I knew…wasn't that how Jesus defeated the enemy!? To the point where I had "faith" fatigue…and then fear found it's slot…what if I'm just not…? Sadly, many of us can easily finish that sentence.
How easy it is to be brave while you are in God's arms or your feet are on the ground and you control the narrative. The first 2 categories of fear/fearlessness is all about how you react…the third one is how you think God will react. But what do you do when He throws (rather HURLS) you in the air? I can unashamedly tell you, I puke! I don't laugh like this crazy kid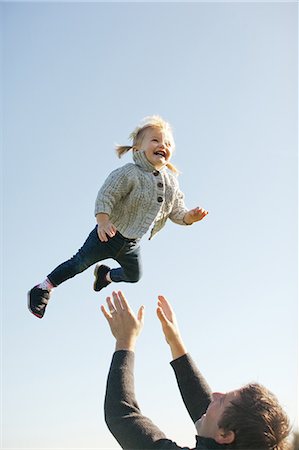 It hit me like a ton of bricks. What makes this kid laugh mid air is the fact that she
(1) knows her daddy,
(2) is the one who threw her and,
(3) will catch her
Suddenly it is not about the brave face, the blind jump in or about speaking things into being. It's about who is throwing you. For a moment your breath catches, you lose oxygen and are far from what you know (or thought you knew). For a moment you are far from God, people, and are exposed. Then you must know
He is your Abba Father and is ever present: Isaiah 41:10 says do not fear for I am with you. God's solution for fear is His presence and how you feel about His presence matters…are you cowering fearing He will blast you for that wrong decision…remember "fear hath toment"?

He threw you

and his eyes are on you: Deut 29:5 speaks of God leading His people into the wilderness. Read "God did it".

He will catch you

: Deut 29:5, same verse, speaks of the fact that no harm came to His people. Read "God took care of them"
My second thought was a lesson I remember from bible college; the revelation that without a revelation of God's love for you, the word will mean nothing to you. It won't fully work for you. God will always be the punisher, the angry one, the one we kind of have to acknowledge, the chess player who just wants to control us. Sounds harsh, but if we peeled off a few layers of pretense or trying to fit into the perfect image of a christian, these thoughts may be true for a lot of us…or let's just wait until the atmosphere changes as you are hurled into the air. Will we confess "oh how he loves us " or will it become "how can a loving God allow this…"
Thank God He is not sunk by what sinks us. Jesus never sunk as he saved a drowning Peter. God won't fall or stumble from catching you! Do you believe God loves you? With a perfect love? Do I believe God truly loves me, despite and in spite of my shortcomings. There are times I know I knew it. Those moments are aligned to times I spat at fears face and bulldozered into zones I have never been in. Then there are times I know I didn't…times where I screamt in absolute fear thinking God was silent and angry at me, meanwhile he was just throwing me skywards to taste a new level…of faith dare I say.
As usual, I have a challenge for us. Let's study God's love. Read the word from a loving Father and not the punisher. Let's pray that we get revelation of God's love for us everyday and watch fear start to dissipate…as there is no fear in love…and those who fear are not made perfect in love.
I aspire to be fearless. I aspire to live completely in the knowledge that God loves me as now I understand that to be FEARLESS IS TO BE FULLY LOVED.
God loves me. Repeat. God loves me…as we create with our words
Let me know your thoughts
Love – The Spiritual
Part 2 is coming and we will go deeper:  The Brave vs. The Imposter
When the bravery is shaken, often we start to question…everything